How To Choose CPAP Mask Depending on Sleep Positions?
Apr 22, 22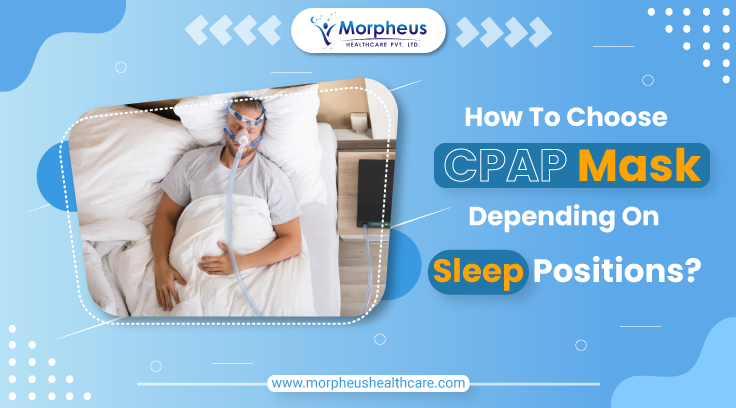 Sleep Apnea is one of the common sleep disorders in which people suffers difficulty in breathing during bedtime. It is analyzed that approximately 51.2 million Indians are undiagnosed, untreated or dealing with a serious sleep disorder. ResMed's Asia and Latin America Sleep Health Survey report statistics showed that nearly 73% of Indians have agreed that their sleeping cycle got exacerbated due to Corona. Many of them use a continuous positive airway pressure (CPAP) machine as a line of treatment. 
Well, Masks are too required for CPAP treatment. Different types of CPAP masks and designs are available for sleep apnea patients that are specifically designed for sleep position, facial shapes, needs and preferences of the users. Some CPAP masks are heavier while others are lighter.
Different Types of CPAP Masks
Nasal masks, nasal pillow masks and full-face CPAP masks are the most frequently used masks for CPAP machines. 
Nasal pillow masks are light in weight and small in size as they cover only nostrils and don't have hard shield-like full-face masks. Similarly, nasal masks cover only the nose. As the name implies, nasal pillow masks and nasal masks are used to cover only the nose or nostrils. However, full-face masks cover half a portion of the face including the nose and the mouth, also it is bulkier than nasal and nasal pillow masks. 
Choosing the Best CPAP Mask for Different Sleeping Positions
According to sleep experts, sleeping positions are officially divided into six categories namely the yearner, the starfish, the log, the soldier, the free faller and the foetus position. Don't panic about these different sleeping positions, we are defining it in simple words- that simply means some people prefer to sleep on their side, some on their backside and some on their stomach side. Now when we talk about CPAP therapy, sleeping position plays a crucial role as you want when you sleep in your favourite position mask don't trouble and irritate you so that you can sleep peacefully at the night. 
Now the question arises about which type of CPAP mask to choose for different sleeping positions. 
CPAP Masks for Side Sleeping
Side sleepers have to choose a smaller and more flexible design mask as it will touch to the pillow surface. In this situation, nasal masks or nasal pillow masks are the best options for people to sleep on their side. They allow easy to move and are flexible enough for the night hours, and have few facial touchpoints. Nasal masks or nasal pillow masks help to secure a seal and reduce mask shifts. People who breathe through the mouth can use a combination of a nasal pillow or nasal mask by using a chinstrap thus it helps to breathe through the nose during the night.
CPAP Masks for Back Sleeping
Sleep apnea patients who sleep on their backside can choose any design of mask as per their convenience. They can even consider full-face masks without any difficulty. Sleeping on the back is one of the best sleeping positions for CPAP therapy. Sometimes, this position creates difficulties to dislodge masks, as back sleepers have to struggle with single-strap headgear at the back of the head. 
CPAP Masks for Stomach Sleeping
Stomach sleepers have to consider CPAP masks cautiously and always choose a flexible mask with minimal design for therapy. It is one of the rarest sleeping positions and most of the masks will be pressed against your face which creates discomfort and frequent air leaks. Nasal masks or nasal pillow masks are the best options for stomach sleepers. It offers high-level performance without the fear of claustrophobia. Furthermore, nasal pillow masks adjust the pressure of air by compressing up and down depending on the head and body. 
Where To Purchase CPAP Masks
There are multiple options where you can purchase CPAP masks - online retailers, retail medical equipment shops and sleep clinics.
Morpheus Healthcare are one of the authorized dealers for leading CPAP brands such as Resmed, Philips Healthcare. We also provide a wide variant of CPAP masks and accessories and can provide you the same. Further, our team of medical experts also helps to choose the right mask for you depending on your uniqure requirement. Contact our team of sleep experts or your own sleep specialist to get the right kind of mask according to your preferred sleep position so you may get a better good night sleep you deserve.
Verdict
You must consult with your specialist before purchasing a CPAP mask as they know your health conditions in a detailed manner and can suggest you the suitable one that fits your needs. Also, consider several factors like sleeping habits, air pressure settings, size and personal preferences at the time of purchasing CPAP masks. Not to forget, you can use soft pillows or cushions with CPAP masks for more comfort.